Yes, everyone, brace yourselves. The holiday season is coming and along with it endless reruns of "Last Christmas I Gave You My Heart", cringeworthy scenes from Love Actually and an all-round happy orgy of consumerism to stave off the winter blues.
One of the staples of this season is of course the slow trickle of cosmetics brands holiday collections, featuring the latest and glitteriest glam to apply on your eyes, lips and cheeks before you go out to your annual company holiday party (nothing more cringeworthy than seeing your drunk colleagues lip-syncing to Mamma Mia in a crowded pub).
So while pretending to enjoy some stale petits fours and company sponsored drinks ("no ma'am, the drinks on the table are reserved for you, the bar takes cash or card"), why not do one's best to look dewy, glam and glowy.
In the spirit of the season, we will be publishing a colour analysis of a recent holiday collection. Let's kick this off with MAC's 2019 Holiday Collection, aptly called "Starring You".
The collection features two liplines. A lipstick collection called Kiss of Stars and a lipglass collection also called Starring You. In this two part series, we will do a colour analysis of both and look at some potential dupes. In part 1, we'll be looking at the Starring You - lipglass collection.
Starring You Lipglass collection

The colour scheme of the Starring You lipglass collection. Source
The Lipglass collection features a vampy, dark purple sparkly gloss in the colour Starf*cker, two rosy beige-ish nudes for lighter skin shades that look translucent on models with a darker skintone, a glamorous red and a rather off-piste baby pink. Let's take a look at each in turn and see if we can find some dupes using lipcolourmatch.com.
Starf*ckr shade matches and potential dupes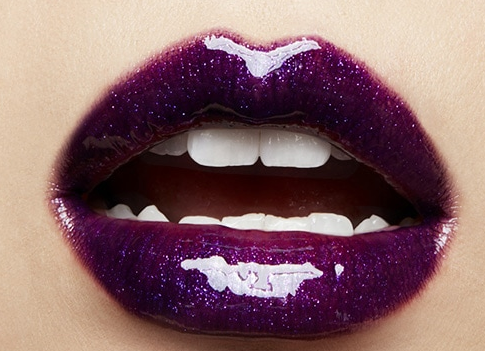 Swatch of MAC's Lipglass in colour Starf*cker on a light-skinned model.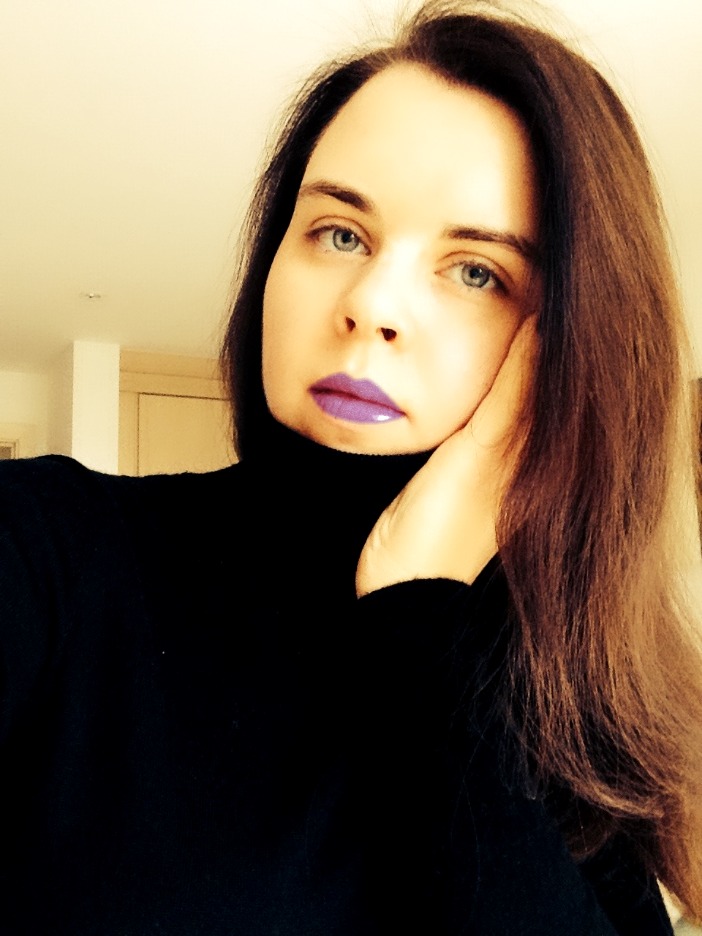 Swatch of MAC's Lipglass in colour Starf*cker as featured on the MAC try-on app.
Starf*cker is a bit too vampy to be everyone's cup of holiday eggnog, but it's right up my alley as a continuation of the autumn vampy lipcolour trend and as a bit of a middle finger to the slew of reds, golds and silvers that usually dominate the shelves at this time of the year.
As part of its beautytech initiative, MAC recently started to offer a virtual Try-it-on experience in the browser and I was quite excited to see that this had been made available for the Starring You lipglass collection. Unfortunately, I don't think the technology is quite there yet to faithfully replicate the colour payoff (see the difference between the swatch of the colour on a light skinned model and the way the try-on app painted the colour on my lips).
I also tried search lipcolourmatch.com for a lip gloss product in a shade similar to Starf*ckr. It looks like there isn't really a lip gloss product in the lipcolourmatch.com database that would match the exact cool purple tone of the product.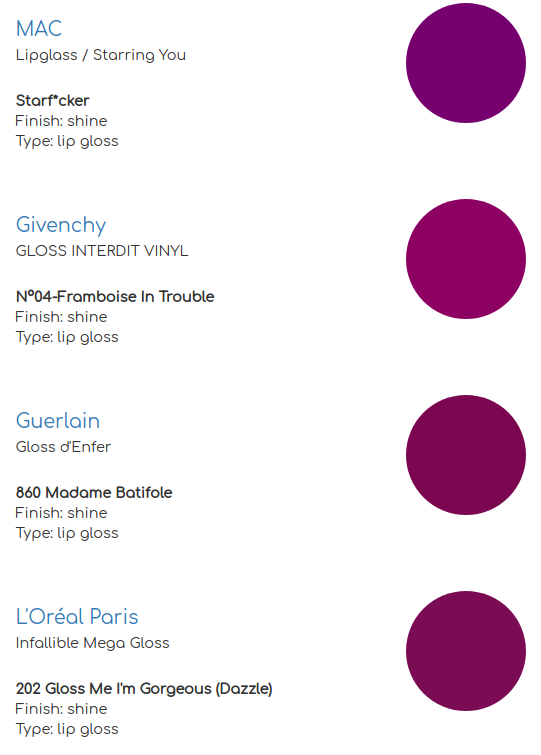 Potential dupes for MAC's Starf*cker on lipcolourmatch.com.
The closest matches, for example L'Oreal's Gloss Me I'm Gorgeous which you can see in a swatch by the beauty blogger Corallista here, appear to be slightly on the reddish, warmer (almost beetroot berry-purple) side. The only cool toned result featured on the first page of the results is Urban Decay's lip gloss in the colour Jawbreaker, but even that has a more neon purple look, which Starf*cker is a darker, burnt plum purple.
I could totally imagine myself wearing Starf*cker to some bizarro, gothic, galaxy-themed holiday party, but for a more subdued office-xmas-do, you might want to go with one of the safer colour in the lipglass holiday collection.
Star Memoir: Everyday is a good day for red holiday lipgloss glam
One of the more classic colours in the lipglass collection is Star Memoir, a glittering red lipgloss. Thankfully, unlike Starf*cker, this is an easier colour to dupe, because many brands carry lip glosses in a variety of shades of red.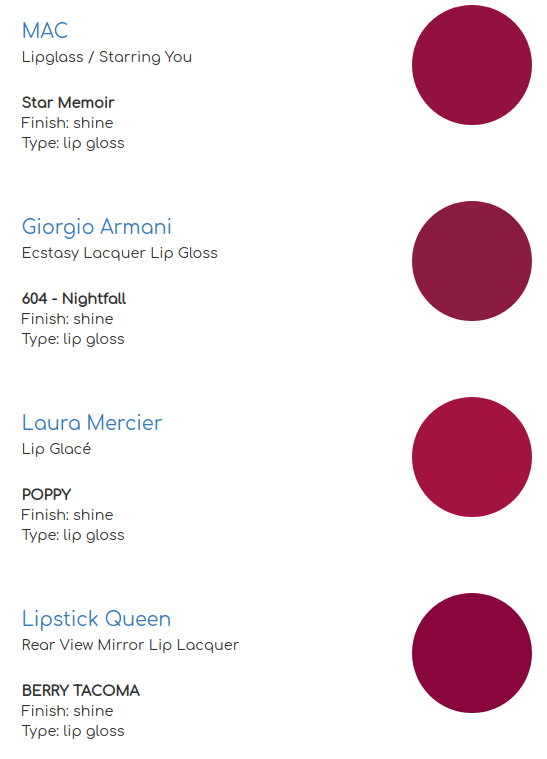 Shade matches to Star Memoir on lipcolourmatch.com
Counting Stars and Young Star: Holiday glam nudes and beiges
The collection includes two nude-ish (on light skinshades) lipglass colours: Counting Stars and Young Star. I say nude-ish, because based on the swatches they appear to be nudes only for those who have lighter skin shades, for the rest they will appear as a darker, almost nude rose shade or simply as a subtle sparkly shine (as you can see below).
Beige and nude lipglosses are probably among some of the most popular, so you have plenty of shades to try and dupe Counting Stars with. Most of these, probably won't have the same kind of glittery finish, but on the other hand the shade without glitter would probably also be more wearable as an everyday gloss, so you can re-use this colour over the course of the year, not just for the holiday season!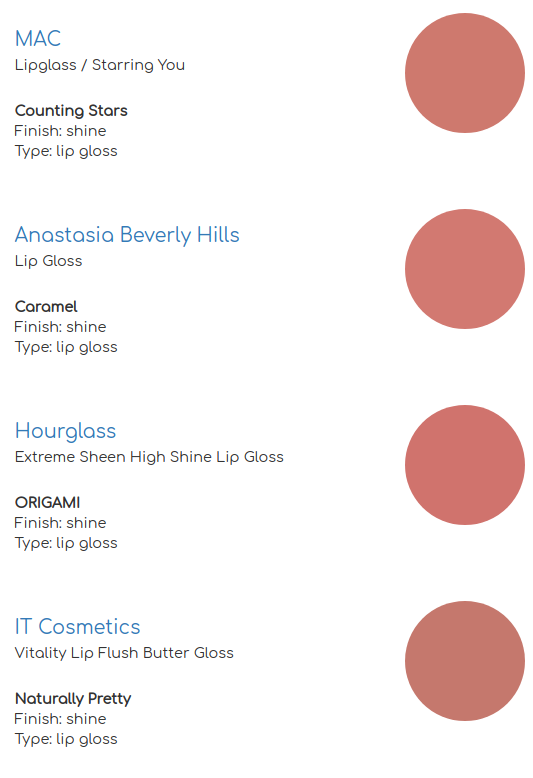 Shade matches to Counting Stars on lipcolourmatch.com
Young Star - MAC duping itself?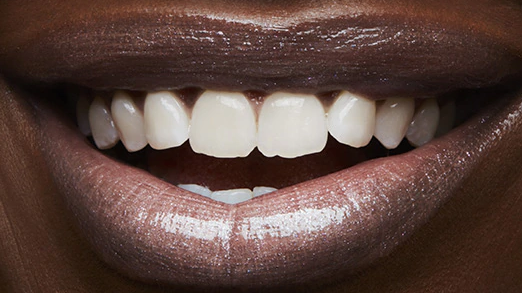 A swatch of Counting Stars on darker skin tones. Source: maccosmetics.com
Young Star is a slightly lighter, more pinkish and opaque colour than its more translucent cousing Counting Stars. While Counting Stars leaves a pretty translucent shade on darker skintone, Counting Stars has a faint pinkish tint. It appears that MAC has previously produced multiple shades similar to Young Star. Similar lip gloss shades already in the MAC collection are Moth to Flame, Coral of the Wild and Love Nectar. The colour Moth to Flame even includes the same kind of sparkles as the holiday edition Young Star!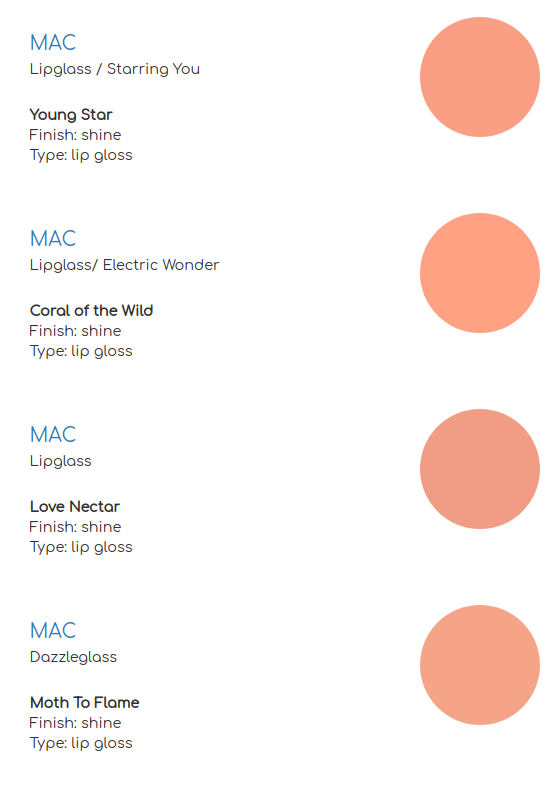 Shade matches to Young Star on lipcolourmatch.com
Starring You : the eponymous baby pink
The last shade in the holiday lipglass collection is Starring You - a pale baby pink with a touch of sparkle. The usual colour palette of the season is heavy on reds, golds and silvers, so this pale baby pink addition seems a bit out of place. It's fairly translucent so depending on your underlying lip colour, the shade range of this goes from pale pink to sligtly dusty rose to a rather translucent looking shine. Based on the swatches on the MAC Cosmetics website, the pale baby pink colour of the gloss doesn't appear almost at all if your lips have a darker skintone, so it could be a bit of a disappointment if you're going for something with more colour payoff.
Since pink is probably one of the most common gloss shades (minus the slight addition of the holiday sparkles), you will probably be able to dupe it with something that could already even be in your stash!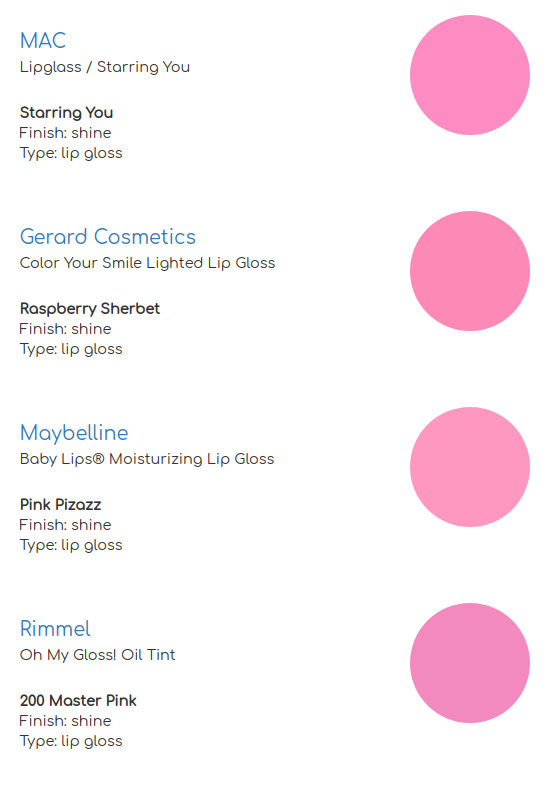 Shade matches to Starring You on lipcolourmatch.com